CrossFit Aerobic Capacity
CrossFit Specialty Course
Saturday, April 6th, 2019
Hosted by Experience Momentum's CrossFit Alderwood
Join us at Experience Momentum's CrossFit Alderwood to learn how to better develop your, or your athlete's, cardiovascular "engine." Through this course, participants will learn from Coach Chris Hinshaw about how he integrates training methods into CrossFit programming to improve athlete performance. This course is appropriate for all levels, from the Coach to the CrossFitter who is just starting out but wishing to learn more. This course is hosted at Experience Momentum's Gym in Lynnwood, WA. Read further for registration, location, and course details.
Registration
Cost: $349 USD + tax billed by CrossFit
CEU's Available: Yes, you receive 6 CEU's for completion of the course.
Clicking the below link will take you to a new webpage and the CrossFit website where you will need to login or create an account.
When you are complete, venture back to this tab for location details.
Location & Course Details
Experience Momentum | CrossFit Alderwood
4030 Alderwood Mall Blvd
Lynnwood, WA 98036
Contact Us with questions or Call (425) 776-0803
Parking is available onsite. If the lot is full, we have an overflow lot to our west in the group of spaces next to the SpeedTrap Espresso. Experience Momentum's gym has bathrooms and showers available for your use during the course. We have Registered Dietitian Nutritionist approved snacks and drinks available for purchase. We have a water fountain, but if you need coffee our friends at SpeedTrap Espresso will be your spot. We are wheel chair accessible and inclusive to all persons. If you have concerns or additional needs, don't hesitate to contact us.
The course will run from 9am until 4pm with a 1-hour lunch. However, please be at Experience Momentum by 8:30am to assure we can swiftly complete check-in. Please bring a paper copy of your registration confirmation. Your confirmation email from CrossFit will include what else to bring (at the bottom of your emailed confirmation).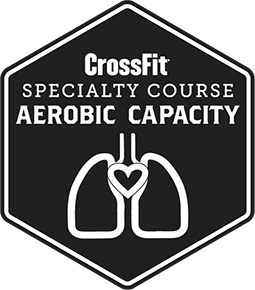 The Aerobic Capacity Course teaches participants:
How fatigue develops and limits athletic performance.

How to maximize cardiovascular fitness by creating an optimal balance between the energy systems.

How to apply training based on aerobic capacity, lactate threshold and aerobic threshold to target personal goals.

Speed-endurance and strength-endurance training protocols to increase overall work capacity.

How to assess and identify any athlete's aerobic fitness.

How to create individualized "paced" workouts and heart-rate-based programming.

How to understand and perform the dynamic warm-up.

Assessment, recruitment, sequencing and endurance development of the muscle-fiber spectrum.

How to incorporate modern endurance-training methodologies into the full spectrum of CrossFit functional movements (e.g., weightlifting, gymnastics).
About Experience Momentum's CrossFit Alderwood
CrossFit Alderwood was formed in 2015 within the Experience Momentum family. Built as a CrossFit gym, it still boasts Experience Momentum's roots within the endurance community fueled by Ironman Triathlons, Ultras, etc. CrossFit Alderwood is backed and supported by a team of Physical Therapists, Massage Therapists, and Registered Dietitian Nutritionists within Experience Momentum's clinic.
Want more information about our gym or clinical services, please contact us.