Lynnwood, Wa | Fremont, Seattle, Wa
Take advantage of a complimentary 60-minute Fitness Assessment to understand your individual fitness needs and learn the strategy and programming needed to achieve your fitness goals.
Personalized Training Philosophy
Specific, challenging, and fun. Let Experience Momentum's Personal Trainers design a personal training plan that is specific to your fitness needs and level. Whether you are looking for accountability in movement or are trying to take your fitness performance to the next level, our Personal Trainers are here to create an individualized experience to help you meet your goals.
Pricing
Our Personal Trainers offer session packs and membership options. We accept health savings accounts.
Monthly Packages: $40 to $75 per session
Month to Month or 6 month packages

60 or 30 minute sessions

12, 8 or 4 sessions per month

All monthly personal training packages include an All-Access class membership at a rate of $50 per month
Single Sessions: $55-85 per session
Small Group Training is available based on the above structure with a 15% reduction in price per additional person.
Are you an Existing personal training Client?
Schedule your next personal training session.
Additional Personal Training Resources
Featured Blog Posts | Stretching Explained, The Hip Joint, Shoulder Mobility Tips
Nutrition | A keystone to achieving your fitness goals, sign-up for a free 15-minute consultation with our Registered Dietitian Nutritionists. Insurance & cash plans available.
Soft Tissue & Rehabilitation | Move well. Meet our team of Massage Therapists and Physical Therapists who are here to support your body's movement needs. Insurance & cash plans available.
Our Hours & Training Studio
Lynnwood Personal Training | City Center
Mon - Thur 7:00am - 7:00pm
Fri 7:00am - 6:00pm
Sat 7:30am - 12:30pm
Seattle Personal Training | Fremont
Move through life easier by focusing on general strength and conditioning. Design specific to your body's fitness level and around your goals, our fitness for life focus is meant to empower your movement abilities.
Build on your rehabilitation success and shift to a fitness focus through our Post-Rehabilitation personal training. Continue to build strength, mobility, and function to reach a new level of fitness. Service can be coordinated with your Physical Therapist.
Focused around your sport of choice, our Sports Personal Training.
Change your body composition safely and effectively. Training plan is in coordination with care by a Registered Dietitian.
Activities of Daily Living
Maintaining function as we age is essential to maintaining independence in life. Our Personal Trainers are supported by Physical Therapists to assure our personal training plans can support the evolution of every level of function.
CrossFit is part grit and part skill. Our 1:1 CrossFit Coaching is designed to evolve your skill and safety with each movement. Your CrossFit Coach will assess your lifts and will take you through efficient and effective progressions week after week to achieve your goals.
Focused training to evolve your personal Yoga practice.
Focused training revolving around your Weight Lifting goals.
Testimonial
Lisa G. - Boston Marathon finisher
"As a marathon runner, I've found my safe haven. I come here and am renewed :) Massage therapist Matt is awesome. Laura, DPT has inspired me so much. I came to her 3 weeks ago wondering if I was really going to be able to run Boston with an injury I was dealing with. Now I feel strengthened and empowered. All the staff have been so kind and encouraging. Thank you Experience Momentum!!!"
Meet the Personal Trainers
Licensed Athletic Trainer
Lynnwood
Personal Trainer
Lynnwood and Seattle Clinic
Personal Trainer
Lynnwood
Personal Trainer
Lynnwood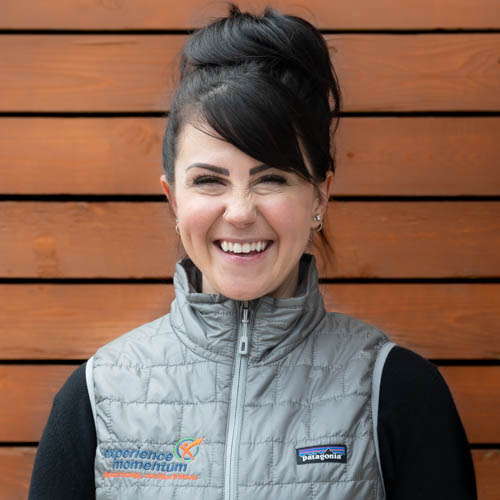 Head Personal Trainer
Lynnwood and Seattle Clinic
Licensed Athletic Trainer
Lynnwood
Personal Trainer
Lynnwood
Blog
The #RedefineWhatsPossible Blog